Task List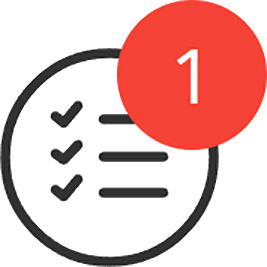 The task list displays all the assigned tasks where you are either responsible or a collaborator and is accessible from either the board or dashboard.

Accessible from the top bar on the right side or the dashboard.

Note: The counter in the task list icon displays how many tasks are currently open.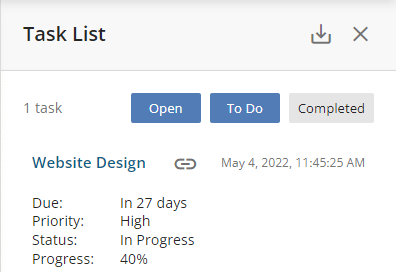 By default, both "Open" and "To do" tasks are selected, but you may toggle each entry individually to display the task wanted.


Open
Displays all tasks assigned that have started and are yet to be completed, including overdue tasks. This includes any tasks where a start and due date has not been set.


To Do
Displays all tasks assigned where the start date has not yet passed.


Completed
Displays all tasks that have either been completed or discontinued.

Whether in the dashboard or board, click the link icon to go to the card in question that contains the task, and if it exists on another board, it will automatically open that board in a new tab.

"Show All" is only displayed if the task list is opened on a board:
If off, it will only display cards with tasks that exist on the currently opened board.



If on, it will display all cards with tasks you are assigned to on any board, be that

responsible or a collaborator

 for the card.