Presentation Mode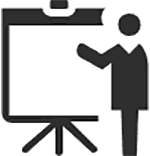 Presentation mode allows you to present the board the way you see it to others, conduct a slide presentation, present a document, or simply present your board. In real-time, attendees in the presentation will see everything you see and only what you see.
Click the presentation mode icon on the bottom right toolbar to get started.

You'll now be presented with numerous settings to configure your presentation.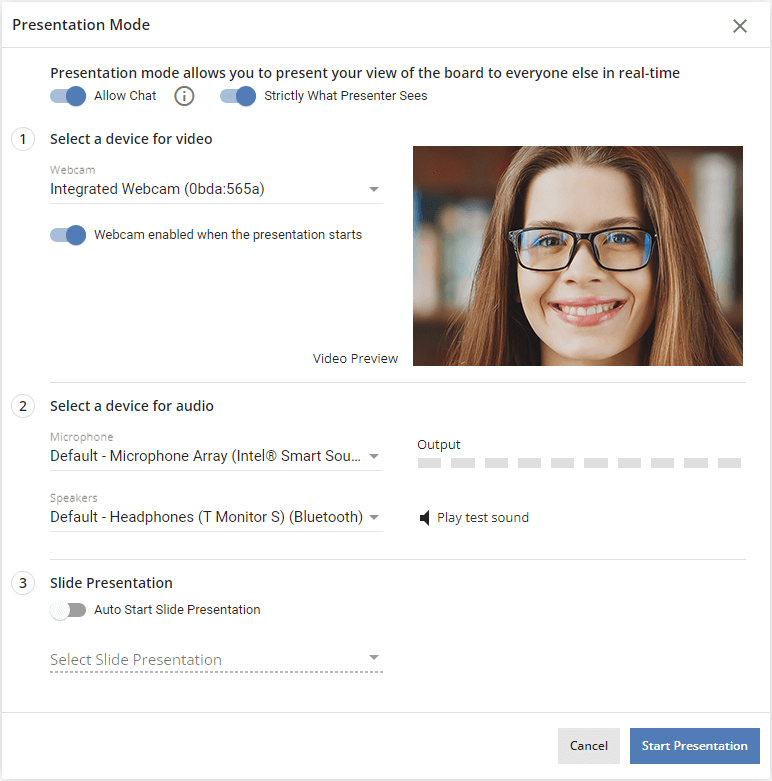 Allow Chat
Whether attendees of the presentation may use the chat feature.

Strictly What Presenter Sees
Sometimes attendees have more space to see the board than the presenter. When this setting is enabled, it ensures that attendees never see more than what the presenter see's on their board or elsewhere.
Select a device for video
Select the webcam to use for your presentation.
Webcam enabled when the presentation starts
Determines whether your webcam is on when the presentation starts. If not, you can always turn it on using the control bar.
Select a device for audio
Select the microphone to use for your presentation.
Select the speakers or headphones to use for your presentation.
Slide Presentation
If you want your presentation to start with a slide presentation, enable "Auto Start Slide Presentation" and select the wanted slide presentation.
Start Presentation
When you are ready, click "Start Presentation" and everyone in attendance will be asked to join.

Once the presentation has begun, if you selected a slide presentation, then your control bar will present options to navigate through slides that your attendees will see. Note: you may also begin a side presentation at any time by opening slide presentations, selecting your presentation, and clicking "Start Slide Presentation".


From here, you can cycle through your slides, skip or go back to a particular slide, control your webcam, microphone, audio settings, and of course, end the presentation.
Your control bar also has options to enable your screen to be shared, webcam status, microphone status, speaker status, settings, and of course, ending the presentation.