Import Members

Accessible from the Dashboard -> Administration -> Members


The import members feature allows you to bulk add members and/or bulk edit members in the organization.


Supported file formats are Text or CSV.


The import file must contain a header line of:  FirstName, LastName, EmailAddress, MaySetAvatar, Licensed, Administrator


Only "Yes" or "No" values are allowed for the fields MaySetAvatar, Licenced, and Administrator.


The import file will add new members if the email address does not exist; otherwise, it will edit the member matching the email address.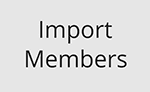 Below is an image of a successful member import file:

Below is a sample report of errors found in an invalid member import file.


Before any import occurs, any reported errors must be rectified and once done, you will receive a message indicating a successful import.